December 21, 2021
UAW Local 1853 Angel Tree Program
 Every year, UAW Local 1853, in a joint effort with GM, partners up with the Boys and Girl's Club of South-Central Tennessee to bring presents to children who are less fortunate. The Boys & Girls Club of South Central (formerly Maury County) has been serving the local youth of Maury County and Giles County for many years.
The Club's Mission Statement is "To enable all young people, especially those who need us most, to reach their full potential as productive, caring, responsible citizens"
Spring Hill UAW 1853 has partnered with the Boys & Girls Club South Central for several years with their annual Angel Tree.  The last two years have been challenging however the Spring Hill team always manages to over exceed expectations.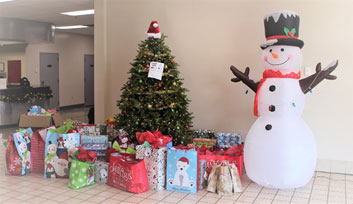 This year 100 children were submitted into the program, each child was assigned a number, separated by gender, and asked what they wanted for Christmas (clothes and toys). Our Local then splits their wishes into two Angels, one for clothes, and the other for toys. Then the 200 Angels were dispersed throughout the Spring Hill GM complex to Christmas trees set up in different areas.
The challenge this year was because of the rollercoaster of layoffs that kept occurring throughout the autumn months into December. Due to the semi-conductor chip shortage and major construction for the upcoming EV Cadillac Lyriq, we were worried that not all the Angels would be collected. Most amazingly, everyone stepped up this year, as the event was well-timed in accordance with people slowly coming back to work. Due to a well-organized coordination between Communications and the Local 1853 President, Cathy Busbee, all 200 Angels were collected, and gifts sorted for pick-up.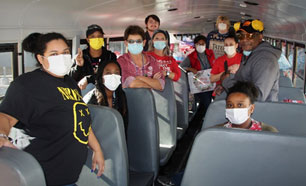 On December 16th, the Boys and Girls Club Bus arrived and was filled by numerous, willing employees from across the site. We filled the school bus with all 200 gifts for the 100 children who will now receive Christmas presents this year, thanks to our Brothers and Sisters, and the salary staff at General Motors. All challenges were overcome! Special thank you to Local 1853 President Cathy Busbee, Walena Anderson, Allison May, Holly DeYager, Todd Horton, Brian Costantino, and many others for organizing and running this charity event. UAW Local 1853 looks forward to doing this every holiday season, along with doing Toys for Tots, and helping the Graceworks Church with their gift collections.