December 12, 2021
Tornadoes Devastate Region 8 Communities
On Friday December 10 and Saturday December 11, over thirty tornadoes tore across Central and Southern United States leaving death and destruction in the wake. Communities in Kentucky, Tennessee, Arkansas, Mississippi, Missouri, and Illinois were impacted as the storms struck under the cover of night.
In Illinois a warehouse crumbled leaving workers trapped and a nursing home was hit in Arkansas. Tennessee estimates the death toll at four, while the hardest hit area was Kentucky were officials fear the death toll could top one hundred. A candle factory in Mayfield, Kentucky took a direct hit, trapping workers under five feet of debris.
The town of Bowling Green, Kentucky in Warren County was hit particularly hard. So far there are twelve confirmed fatalities, including children. UAW Region 8 has a large number of members who live in Bowling Green, with many having been impacted by these storms. Region 8 Assistant Director Tim Smith lives in Bowling Green and witnessed the devastation first hand. "Our hearts go out to every one touched by these storms," AD Smith states. "It is truly a sad situation here. Buildings can be replaced, but the lives that were lost were indeed a tragedy. There are many people left in need and we are going to do what we can to provide assistance. Director Mitch Smith and myself extend our thoughts and prayers to all families and communities that affected."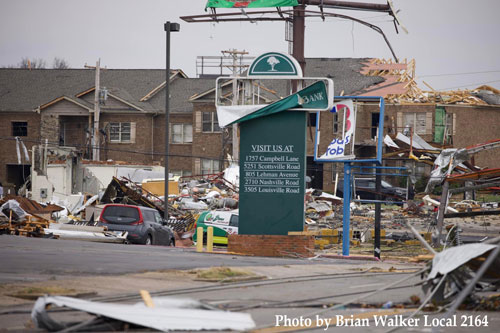 UAW Local 2164 in Bowling Green is organizing relief efforts. Anyone who would like to contribute or help in person can learn more about these efforts by clicking here. Any local union that would like to offer assistance can contact the relief team members:
Contact the Relief Coordination Team:
• Kelsey Bragg (270)-670-4958
• Shanuel Meredith (270)-597-6775
• Pat Klein (270)-792-2597
• Chris Hebert (270)-799-0573
• Joey Allen (678)-207-7486
*Please be patient if calls reach voicemails as we anticipate high volume calls. *
Click here for drone footage of Bowling Green, Kentucky.