Once doors were slammed in their faces
Now Freightliner workers have the power of their own union
Steve Beaver, who works at the Freightliner Cleveland, N.C., plant can tell you what it's like to work for a nonunion company that lacks safety procedures and a grievance process. Soon without ever having to change employers, he will be able to tell you what it's like to work union.
Beaver was hired into the maintenance department of the DaimlerChrysler-owned heavy truck plant in 1996 with 25 years of welding experience. When three welding positions opened, he bid on the jobs only to see them given to people with less experience, qualifications and recommendations than he had.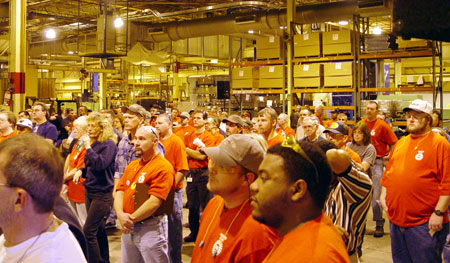 He exercised his right to have his case heard through the company's "complaint resolution process" but was denied the outside arbitration promised by the company. Freightliner also offered a peer review system, "but it was biased," Beaver said. Though the Equal Employment Opportunity Commission (the federal agency responsible for enforcing civil rights legislation) ruled in his favor, without a union there was little Beaver could do with that small victory.

While Beaver was fighting on his own, workers at the Gastonia, N.C., Freightliner plant became the first of the company's workforce to form a volunteer organizing committee since workers at the Mt. Holly, N.C., Freightliner plant organized 12 years ago.

Gastonia management immediately began to wage war against its 700 workers. The company tried to frighten and intimidate workers to achieve a "No Union" vote. Despite threatening to close the plant, Freightliner won the March 2001 election by a mere 24 votes.

After their defeat, the Gastonia volunteer organizing committee (VOC) struggled to hold union supporters together for a year while lending a hand to the workers at Beaver's Cleveland plant who were just beginning to build their VOC.

The Gastonia community was staunchly anti-union, unwilling to go against the largest employer in the area. Most people still believed Freightliner was a good corporate citizen.

With local news media and community institutions lined up against the UAW, it was not surprising to hear anti-union sentiments coming from the young work force at Freightliner, too.
The anti-union sentiment prevented Freightliner workers from exercising their rights to assemble and speak. After the director of the local YMCA approved their request for a meeting room, a superior stepped in and denied the union's request.

Union supporters then scheduled a meeting at a church, only to see the door slammed in their face again when the preacher called back and suddenly cancelled. In desperation, Beaver asked his mother for help.

Although 75-year old Ruby Beaver had no opinion on unions, she had seen how Freightliner had treated her two sons who worked there. She arranged for the organizing committee to use her church for a meeting in February 2001.

Only 15 people attended that first meeting and just 35 at the second. The town still operated under a dark cloud of anti-unionism from when a few years ago a truck with a "Union sucks" sign on the tailgate freely drove around, and union supporters were cursed at and spit on.
On the international front, UAW Vice President Nate Gooden, who holds a seat on the DaimlerChrysler AG Supervisory Board, used his position to argue for corporate neutrality at Freightliner. With support from fellow board members who are representatives of IG Metall, one of Germany's powerful metalworkers unions, Gooden persuaded the company to accept a card check process with no threats or intimidation against workers.

Card checks were scheduled to take place at the Gastonia and Cleveland plants in January 2003. The UAW had 14 days to get a majority of Freightliner workers to sign cards authorizing the UAW as their sole collective bargaining agent.

Region 8 Director Gary Casteel and Assistant Director Donny Bevis, as well as many Region 8 staff members, hurried to North Carolina to support the organizing effort and meet with Freightliner workers. Despite snowstorms and hazardous driving conditions, paralyzing much of the area on Jan. 16-17, a majority signed cards to join the UAW.

"The Freightliner Cleveland UAW volunteer organizing committee was awesome," said Vice President Bob King, who directs the UAW's Organizing Department. "Their dedication, commitment and enthusiasm clearly were driving factors in their victory."

Steve Beaver, who helped spearhead the volunteer organizing committee from the very beginning, was on cloud nine. "Don't ever say it can't be done. You got the proof right here," he said.

UAW Region 8 is currently running campaigns at the Freightliner plants in High Point, N.C. and Gaffney, S.C.