May 16, 2022
Day Two of the 2022 UAW CAP Conference
Report by UAW Region 8 Webmaster John Davis
Day Two of the 2022 National CAP Conference began with a full morning of speakers with workshops in the afternoon.
National CAP Director LaChandra White began the day introducing Rakim Brooks, the President for the Alliance for Justice. President Brooks spoke about the need for a judicial system that worked for all families. You can watch President Brook's remarks here.
Heidi Shierholz, Director of the Economic Policy Institute made a presentation concerning the economy and inflation. She pointed out that supply and demand were driving inflation and corporations were taking advantage of it. "Our system doesn't allow the government to any way to combat inflation other the interest rates," Director Shierholz said. "While the Treasury Department has raised interest rates some, it is dangerous to raise them to quickly and kill the housing market."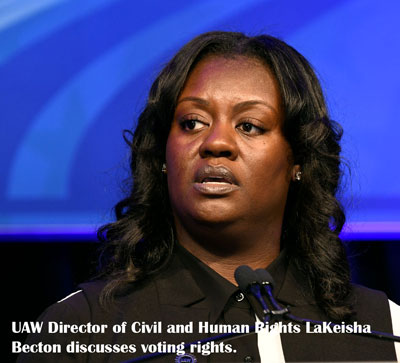 UAW Director of Civil and Human Rights LaKeisha Becton discussed how voting rights were being attacked as protections from our Civil Rights laws were being eroded.
U.S. Secretary of Labor Marty Walsh discussed the need to protect organizing rights. "I grew up in a household where most everyone belonged to a union," Secretary Walsh stated. "I grew up and joined the union too. My parents were Irish Immigrants and I learned the value of hard work early on. Then as I grew older I saw how unions protected the working class. When I was elected Mayor of Boston I negotiated with the unions that represented our city workers in Boston. President Biden called me and asked me to come take on the role of Secretary of Labor. The President supports unions and reminds the entire cabinet of this on a constant basis."
Saru Jayaraman, President of One Fair wage flew in from California to address the delegates on the importance of raising the minimum wage. President Jayaraman gave a great speech on how the minimum wage has left millions in poverty. She also went on to explain how if the minimum wage were increased to $15.00 most of those families would still live in poverty. You can watch President Jayaraman's remarks here.
UAW Assistant Legislative Director Desiree Hoffman addressed the delegates and recounted her childhood and the sacrifices her mother made to put her through college. "Every time I walk the halls of the Capital Building to represent you I remember I am representing all working class Americans," Hoffman said. "It is important we continue to fight for the right to organize and a worker's place at the table."
Eric Heggie from the National CAP Department addressed the crowd about the importance of discussing our interest with our elected officials.
The morning wrapped up with a panel discussion on Voting Rights. The panel was moderated by UAW Assistant Legislative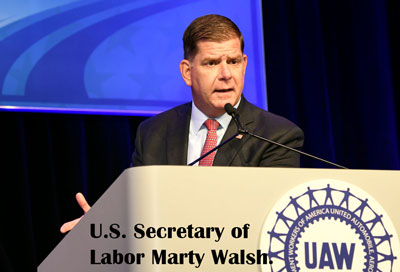 Director Desiree Hoffman. Panel members included:
-Daniel Wiener – Co-Director of Elections and Government Programs, Brennan Center for Justice
- Adam Smith, Director of Action Fund
- Vanessa Gonzales, Executive Vice-President, Field and Member Services, The Leadership Conference on Civil and Human Rights.
- Tommy Walker, Senate Rules and Administrative Committee
Following the panel discussion there were questions and comments from the floor.
After lunch delegates broke off in to rooms for workshops as the day drew to a close.