May 17, 2022
Day Three of the 2022 National CAP Conference
Day Two of the 2022 National CAP conference began with regional meetings. Region 8 delegates met, with remarks from Region 8 Director Mitchell Smith, UAW President Ray Curry and Region 8 Assistant Director Tim Smith.
"As we head to Capital Hill this morning to meet with our elected representatives, remember these people work for us their constituents," Assistant Director Tim Smith stated. "Currently there are lot of issues being debated that impact this membership and their families. The Build Back Better plan contains a provision that would allow Medicare to negotiate with drug companies to lower the cost of drugs to Medicare and lower copays from Medicare eligible citizens. The Build Back Better bill also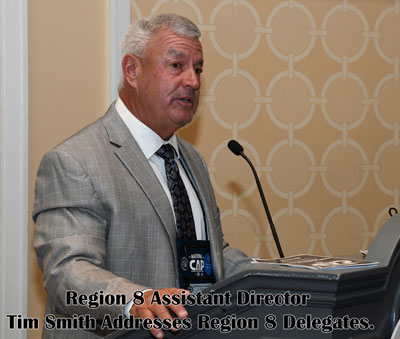 addresses prescription drugs cost for all citizens. It would cap the monthly cost of insulin at $35 for both private and Medicare plans.
"We are currently pushing the PRO Act which would remove many of the obstacles workers face when trying to organize. We currently have the most labor friendly President in modern times, but without the support of our representatives and senators the President cannot get his agenda passed. Remember these people are elected to represent our wishes so let them know it," Assistant Director Smith stated.
Following the meeting Region 8 Delegates made their way to Capital Hill to meet with representatives that would schedule meetings. It is hard to imagine that we live in a time when some elected representatives would refuse to meet with union members. Their offices are only open to corporate interest. While we don't have the money to grab the attention of these elected officials, what we do have is a vote. Make sure that you are registered to vote so we can send these representatives a message this fall.
In the evening a reception was held for all Region 8 Elected Representatives.